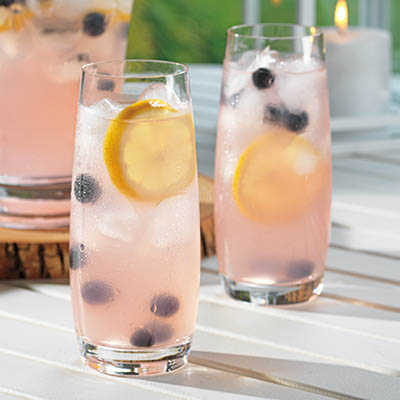 Large, plump, firm DELICIOUS Richmond Blueberries are in season and have taken over family recipes from breakfast smoothies to dinner dessert of crumbles and crisps… and just in case you are looking for yet another use of those yummy berries, here's one for some midday cocktails.
Adult Blueberry Lemonade – compliments of our BC Liquor Stores and their summer edition of Taste magazine.
INGREDIENTS
Serves 8
½ to ¾ cup (125 to 175 ml) fine berry sugar
4 cups (1 L) water, divided
¼ cup (60 ml) vodka (I recommend Stoli, of course)
1 cup (250 ml) fresh blueberries
1 cup (250 ml) fresh lemon juice
1 cup (250 ml) crushed ice
1 or 2 fresh lemons, thinly sliced
INSTRUCTIONS
In a medium-sized saucepan combine sugar and 1 cup (250 ml) water. Bring to a boil and stir to blend until sugar is dissolved.
Remove from heat and stir in remaining water, vodka and blueberries. Then add lemon juice and bring to room temperature.
Stir into a pitcher with crushed ice and lemon slices before serving.
Enjoy this a cold glass during the warm and muggy July we are having.
Let me know if you try it.
Smiles,
Carole